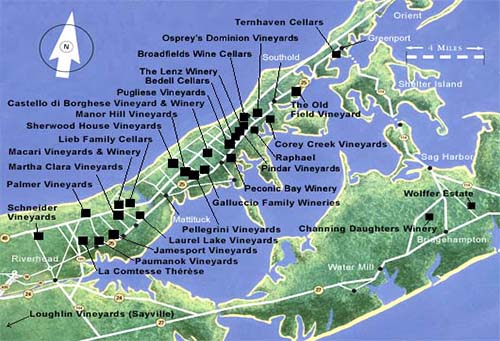 Explore the best vineyards in style with our luxurious range of party buses. Travel around the vineyards either with your close friends and family in our luxurious fleet of party buses or just spend a romantic day or evening with our exotic limos.
Sip away the wines in style by picking one of our many party buses that easily a group of more than 55 people.
Or choose our beautifully luxurious limo and surprise your loved and spend the evening at the vineyard.
Pindar
Address : Main Road, Rt. 25,P.O. Box 332 Peconic, NY 11958
Phone: 631-734-6200, Fax: 631-734-6205
Tastings: 11AM-5:30PM daily
Closed: Christmas Day, New Year's Day, Easter Sunday & Thanksgiving
info@pindar.net
Duckwalk North
Address : 44535 Main Road, Southold, NY 11971
Phone: 631-765-3500
Tastings: 11AM-6:00PM daily
duckwalkvine@optonline.net
Laurel Lake Vineyards
Address : 3165 Main Road, Rte. 25, Laurel, NY 11948
Phone: 631-298-1420, Fax: 631-298-1405
Tastings: 11AM-6PM daily
Closed: Christmas Day, New Year's Day & Thanksgiving
info@llwines.com
Macari Vineyards & Winery
Address : 150 Bergen Ave, P.O. Box 2 Mattituck, NY 11952
Phone: 631-298-0100, Fax: 631-298-8373
Tastings: 11AM-5PM daily
Closed: Christmas Day, New Year's Day, Easter Sunday & Thanksgiving
macari@peconic.net
Osprey's Dominion Vineyards
Address : 44075 Main Road, Rte. 25, P.O. Box 275 Peconic, NY 11958
Phone: 631-765-6188, Fax: 631-765-1903
Tastings: 11AM-5PM daily
Closed: Christmas Day, New Year's Day, Easter Sunday & Thanksgiving
winemkr@ospreysdominion.com
Pugliese Vineyards
Address : Main Road, Rte. 25, P.O. Box 467 Cutchogue, NY 11935
Phone: 631-734-4057, Fax: 631-734-5668
Tastings: 11AM-5PM daily
Closed: Christmas Day, New Year's Day, Easter Sunday & Thanksgiving
pugliesewines@pugliesevineyards.com
Palmer Vineyards
Address : 108 Sound Avenue, Rte. 48 Riverhead, NY 11901
Phone: 631-722-WINE, Fax: 631-722-5364
Tastings: 11AM-6PM daily (June-Oct.)
Closed: Christmas Day, New Year's Day, Easter Sunday & Thanksgiving
palmervineyards@mail.com
Martha Clara Vineyards
Address : 6025 Sound Ave Riverhead, NY 11901
Phone: 631-298-0075, Fax: 631-298-5502
Tastings: 11AM -6PM daily
info@marthaclaravineyards.com
Jamesport Vineyards
Address : Main Road, Rte. 25 Jamesport, NY 11947
Phone/Fax: 631-722-5256
Tastings: 11AM-5PM
Closed: Christmas Day, New Year's Day, Good Friday, Easter Sunday & Thanksgiving
jamesportvineyards@msn.com