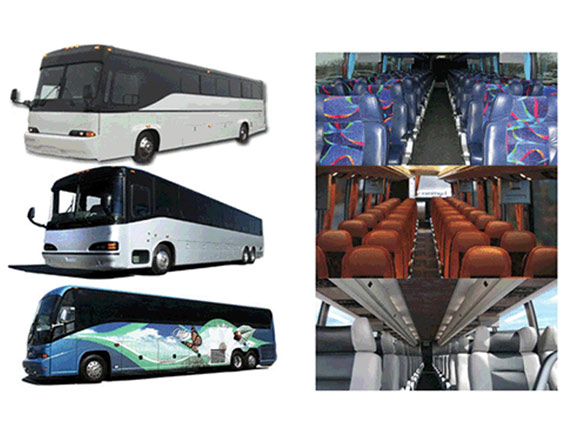 What Makes RUSSELL'S EXOTIC LIMO AND CHARTER BUS Unique ?
While there are many companies to choose from when it comes to charter bus service. RUSSELL'S is the "most experienced and most established" charter bus rental network in business today. Our 20 years of experience sets us apart as an industry leader and innovator when it comes to charter bus service. Our philosophy and back bone of our business is to provide our clients with a safe, reliable and enjoyable charter bus experience. Having some of the finest licensed and insured affiliates nationwide means a service you can rely on time and time again.
DID YOU KNOW RUSSELL'S DOES CORPORATE, MILITARY, PERSONAL, GROUPS, AIRPORT TRANSFERS, BUS WRAPS, ENTERTAINERS, CASINO'S PARTY BUSES, MIIN COACHS, PROMS, AND MUCH MORE… WITH ALL FULLY INSURED LATE MODEL COACHES..
Locally Owned Services. Nationwide Assurance.
RUSSELL'S IS FULLY owned & operated and based in the local city in which we provide service. This means no out of town operators or buses. No one knows the local areas we operate in better than our experienced drivers. This is the first step to a great charter experience with RUSSELL'S.
REMEMBER RUSSELL'S CHARTER BUS AND LIMOUSINE SERVICE COVERS 11 STATES IN OVER 60 MAJOR CITIES.
WE ALSO OFFER MULTI DAY, MULTI STATE CHARTERS FOR THOSE LONG TRIPS. Serving 11 Major States and more than 60 Major Cities.
WE CARRY 15 PASS VANS, 24 AND 36 PASS MINI COACHES, 47-49 PASS FULL COACHES, 56-57-61 PASS DELUXE COACHES……ALL COACHES ARE COMPLETE WITH A/C – PA SYSTEMS– BATHROOMS, DVD'S AND MUCH MUCH MORE…